Susan Kirkpatrick Johnson
, MA
Medical Illustrator
Graphic Designer
Multimedia Artist
Wheels
Sculpture for the Mascoma River Greenway. Media: wood, steel, aluminum, 3.5'X4'. Here's a story about the
Lebanon Rail Trail Public Art Installations.
---
Is the Sky Still Up?
For AVA Gallery's 10 X 10 exhibition and fundraiser. Media: alcohol ink and Sharpies.
---
Blues Piano
For the Hopkins Center's Hands on Pianos exhibit. To celebrate their 50th year, the HOP collected 50 donated pianos and chose 50 artist/applicants to modify them at will. They were then displayed around the Upper Valley over the summer of 2012, and the public was encouraged to play them. You can still find a few in the wild. Exhaustive details on the
Facebook page
from long ago. The theme of my piano was The Blues. On the back was a "quilt" of squares from 20+ collaborators. Some of mine are included in the images at right.
---
Hannah House chairs
Every year, artists would decorate Adirondack chairs which were displayed around the Upper Valley and then auctioned off to raise funds for Hannah House, a home for at-risk teen mothers. Hannah House was forced to close in 2012 due to funding loss, after 25 years in Lebanon.
---
AnnaLeona
2005
---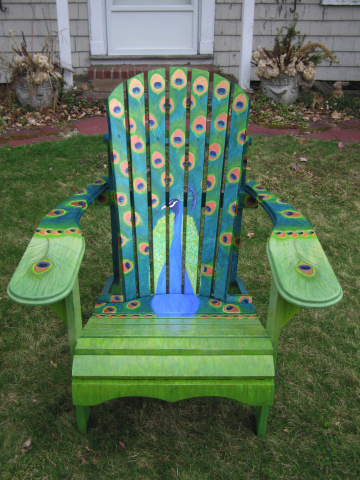 Peacock
2006
---
Lichen and Verdigris
2007
---
---
---
All images are copyright protected and may not be used for any purpose without prior permission.
Last updated August 14, 2020
skj@susankjohnson.com